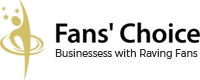 Fans' Choice Award
5
Fans' Choice is a great way to see progress in my business and I tell all my clients if they can leave feedback on my fan choice link. Fans' Choice is a fantastic way to show new and exciting clients that you are highly recommend for your line of work and this speaks volumes to potential new business

~

Elisa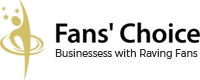 Fans' Choice Award
5
We are overwhelmed with the nomination for the Fans' Choice. We love what we do and to be recognized for this award is simply amazing. We would like to thank everyone for their kind words and support.

~

Simply Beautiful Hair & Beauty Salon
Fans' Choice?
Fans' Choice makes it easy for both businesses and their fans to reach out and build an amazing relationship with each other. Access industry-leading tools and ideas that empower your business to grow, pamper and leverage fans.
Fans are your super-customers who share the same passion for your business. On average, only 10% of customers are fans, but they account for 30-70% of sales, an even greater share of profits, and almost 100% of consumer insights.

Fans are your story-tellers, your brand ambassadors. Their attitude inspires millions of others to take notice and follow your business and become your customers. Grow, pamper and leverage your fans to take your business to a new level.