Dr. Sanda Moldovan
(

2

)
Average rating of 5 out of 5 stars
Dr. Sanda Moldovan
465 N Roxbury Drive #911, Beverly Hills

,

California

,

90210

,

USA
310-651-6588
Contact This Business
Recommend To A Friend
Recommend To A Friend
Fill in the below form and you can recommend 'Dr. Sanda Moldovan' to a friend or family member via a text message.
Share with Friends
Show Your Support, Share!
Show your support with a quick share of 'Dr. Sanda Moldovan'.

Share the below banner to your favorite social media profile and encourage your friends to become a Fan.
Services Offered
Nutritional, Evaluation, Dental Implants, CT Scan, Laser Dentistry, Cosmetic Procedures, TMJ, Periodontal Services, Ozone Therapy, PRF Regeneration, and Sedation
Dr. Sanda Moldovan, MS, DDS is an internationally recognized speaker, award-winning periodontist, author, and television personality and consultant on oral health, periodontics, nutrition, and anti-aging. She is a well trained and certified professional who stays on top of the latest research and technology in her fields of expertise, particularly laser and minimally invasive techniques in dental implant surgery, periodontal plastic surgery, and nutritional support. Dr. Sanda Moldovan's office is mercury free (silver amalgam filling free) and mercury-safe. She is committed to practicing safe and healthy dentistry and using her high visibility in the public to educate and create greater awareness of the importance of how a healthy mouth translates in to a healthy body.
Reviews Hall of Fame
Fans' Choice Awards – Reviews for Dr. Sanda Moldovan!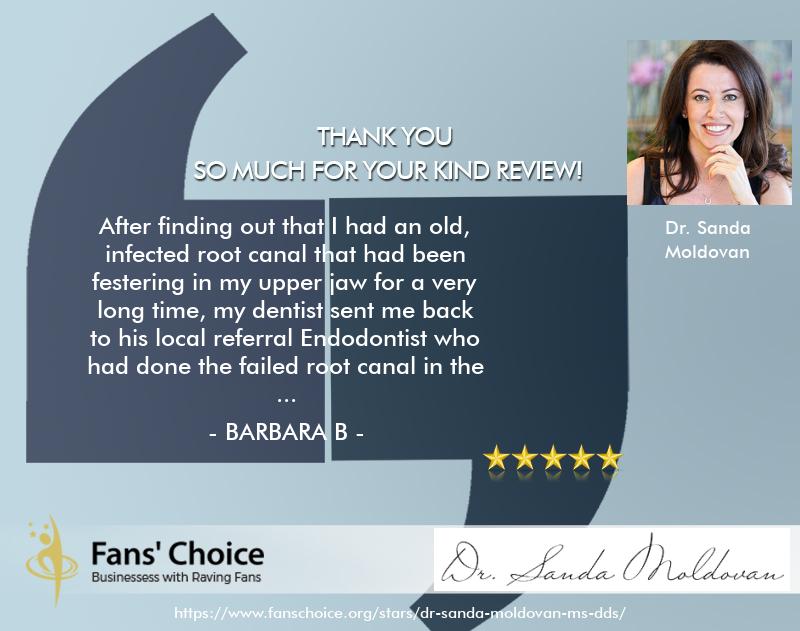 Barbara B's review on Dr. Sanda Moldovan
5

After finding out that I had an old, infected root canal that had been festering in my upper jaw for a very long time, my dentist sent me back to his local referral Endodontist who had done the failed root canal in the first place. This didn't feel right, so after lots of research, I sent an email to Leeshane at Beverly Hills Dental Health and Wellness. Within an hour she responded and I was so amazed. I told her my story and within two days I was sitting in their beautiful office and I knew this was a special place. After a painless extraction, ozone and PRP treatment I took a deep breath and felt an incredible wave of relief. What a toll an infected root canal can have on your entire body. Dr. Moldovan was so thoughtful, considerate and patient with all my questions and concerns, even though I know she has seen my story many, many times. Also, extremely professional, talented and at the very top of her profession. Thank you all so much for everything.
---
Fans' Choice Awards – Reviews for Dr. Sanda Moldovan!
Greet I.'s review on Dr. Sanda Moldovan
5

Doctor Moldovan is one of the best periodontist I have ever encountered. I'm an entertainment journalist and travel all over the world. Recently I had a dental emergency and went to see Dr Sanda Moldovan. I was truly amazed at her professionalism and meticulous way of working. Not only does she have the best state of the art equipment available to her patients but she is also extremely well crafted and up to date with the latest dental technologies the world has to offer. Upon entering her office, I felt immediately comforted and safe with her. She is a very nurturing, warm dentist who patiently explains each and every procedure with care. She extracted my tooth and was able to immediately put a teeth implant, all this in one procedure. A few hours later, I walked out of her office relieved that my intense toothache was gone. A few days later the tissue around the implant was healed amazingly. If you ever need an excellent professional periodontist who not only knows her craft but also loves her work and patients than go and see Dr. Sanda Moldavan! I promise you, you will not regret it! Thank you Dr. Moldovan, you were a life saver.
---
" "