Precision Dental Dubai
(

5

)
Average rating of 5 out of 5 stars
Dr. Punit H. Thawani
2301 Aspin Commercial Tower, Near Shangri La Hotel – 106 Sheikh Zayed Road
Dubai

,

United Arab Emirates
04 – 2756731
Contact This Business
Recommend To A Friend
Recommend To A Friend
Fill in the below form and you can recommend 'Precision Dental Dubai' to a friend or family member via a text message.
Share with Friends
Show Your Support, Share!
Show your support with a quick share of 'Precision Dental Dubai'.

Share the below banner to your favorite social media profile and encourage your friends to become a Fan.
Services Offered
Dental cleanings
Tooth-colored fillings
Root canal therapy
Tooth extractions
Dental implants
Gum disease treatment
Teeth whitening
Veneers
Conventional braces
Invisible braces
Invisalign
TMJ therapy
Surgical orthodontics
At Precision Dental Clinic in downtown Dubai, UAE, we are committed to providing exceptional dental care for all your family's oral health needs while ensuring you are comfortable and feel at home in our dental office. Dental care for every life stage We believe it is important for you to receive your dental care in a comfortable, familiar environment, which is why our founder, Dr. Punit Thawani, has assembled a team of highly skilled, specialized dentists to serve the broadest array of dental care needs. Our multi-disciplinary team has the expertise to provide comprehensive dental care for patients of all ages, from general and cosmetic dentistry to orthodontics, periodontal care, the placement of dental implants, and more.
Reviews Hall of Fame
Precision Dental Dubai
Gulnar
has given a 5 out of 5 star rating on
September 26, 2020
I have been visiting Precision Dental Clinic already for quite sometime. I've had so far the best experience. Dr Shweta explained all details about my teeth treatments. This clinic is well known by referrals. Because people had a good experience and great service. This clinic not like other places in dubai by over prescribing the treatments. They are the one of the honest and and high quality service dental clinic in dubai. Thank you for Precision Dental clinic team.
Precision Dental Dubai
Marko S
has given a 5 out of 5 star rating on
September 13, 2020
An excellent job on bridge replacement , cleaning and polishing. Front desk: Very friendly and professional. Environment: super tidy, atmosphere filled with relaxing background music, light and soothing. Treatment: Dr. Anisha Kumar is an amazing professional. Very carrying, making sure that patient is always confortable and well informed about the procedure.
Precision Dental Dubai
Shang-C
has given a 5 out of 5 star rating on
September 13, 2020
Dr. Shweta is quite professional. She gives not only treatments but also care for her patients. The clinic is really flexible and convenient for scheduling. The environment is clean and tidy.
Fans' Choice Awards – Reviews for Precision Dental Dubai!
Mustafa K's review on Precision Dental Dubai
5

A must try dental clinic with professional doctors. Especially thanks to Dr. Punit. Definetly will go back for regular check.
---
Fans' Choice Awards – Reviews for Precision Dental Dubai!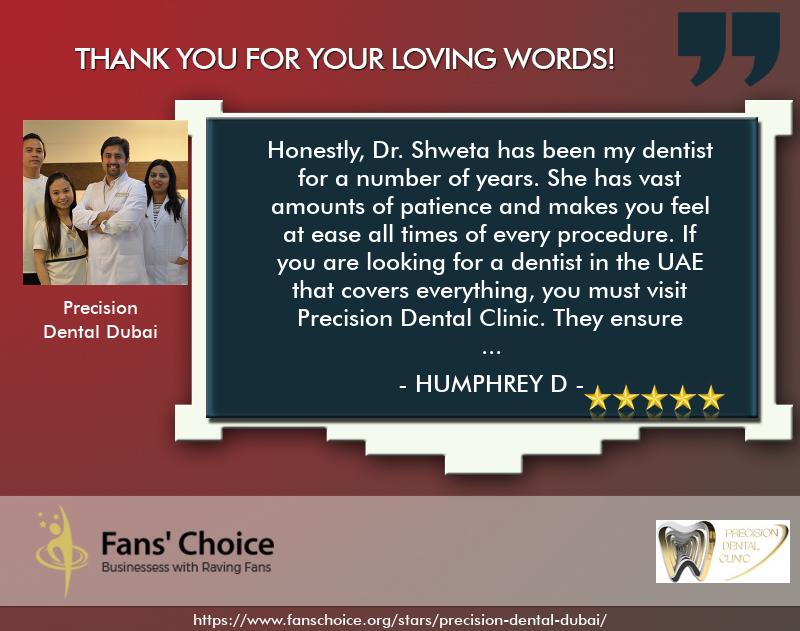 Humphrey D's review on Precision Dental Dubai
5

Honestly, Dr. Shweta has been my dentist for a number of years. She has vast amounts of patience and makes you feel at ease all times of every procedure. If you are looking for a dentist in the UAE that covers everything, you must visit Precision Dental Clinic. They ensure that you get what you need done and to the best standard, without trying to get you to spend money on other procedures you won't need.
---