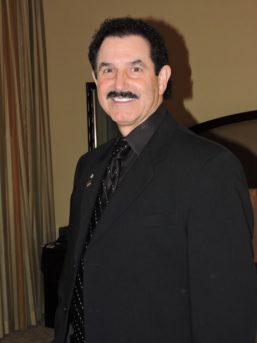 Richard S. Bernstein D.D.S.
(

4

)
Average rating of 5 out of 5 stars
Dr. Richard Bernstein
31158 Haggerty Road Farmington Hills

,

Michigan

,

48331

,

USA
248.636.2100
Total Reviews:17
Average Rating:5
Real Google Reviews
Michael Therman
I 100% wholeheartedly recommend Dr. Bernstein and all of his staff for a great multitude of positive reasons, but for two very important ones in particular: 1. Dr. Bernstein was the first dentist I ever went to that adamantly would not remove my wisdom teeth. All the dentists before either encouraged me to do so and/or did no further analysis per me mentioning how I would like to have the procedure done. Mind you, my wisdom teeth were giving me no issues and did not affect my other teeth in any way structurally or otherwise. "Dr. B" (as known to his staff) recognized this, refused to remove them noting how my mouth was large enough to keep them in place, and stayed on me about flossing/brushing/keeping them clean. 2. His level of detail is superb. It does not surprise me one bit the awards and accolades he has earned over the years and continues to acquire today. I was just in for a cleaning recently and he immediately noticed the grinding I have been doing on my central and lateral incisors on both sides. In return he offered two solutions…either do nothing and in 20 years I will need a reconstructive surgery to correct my bite that will easily cost $10K+, or address the problem now by purchasing a custom-fitted mouthpiece to wear to bed that will cost me a couple hundred dollars after insurance chips in. Needless to say, it's a pretty simple decision. It is for these reasons, as well as a number of others that I fully endorse Dr. Bernstein DDS and his entire office of wonderful individuals.
Originally posted on Google on 2018-08-03
---
Total Reviews:7
Average Rating:5
Real Facebook Reviews
Kathy English
My family and I, are extremely happy with the services we have received over the years from Dr. Bernstein and his wonderful team!!
Originally posted on Facebook on 2018-06-14
---
Becca Balas
Originally posted on Facebook on 2018-05-14
---
Nicolette Gambini
Originally posted on Facebook on 2018-05-14
---
Nichole Colone
Originally posted on Facebook on 2018-05-14
---
Bliss Ledford
Beautiful smile; natural or not? Only your dental team will know. They won't keep you waiting and take pride in quality care. I love these folks!
Originally posted on Facebook on 2016-02-11
---
Richard Bernstein
Originally posted on Facebook on 2013-09-18
---
Rick Bernstein
Originally posted on Facebook on 2013-09-18
---
Recommend To A Friend
Recommend To A Friend
Fill in the below form and you can recommend 'Richard S. Bernstein D.D.S.' to a friend or family member via a text message.
Share with Friends
Show Your Support, Share!
Show your support with a quick share of 'Richard S. Bernstein D.D.S.'.

Share the below banner to your favorite social media profile and encourage your friends to become a Fan.
Services Offered
Cosmetic Dentistry, Smile Makeover, Porcelain Veneers, Crowns & Bridges Michigan, Dental Implants, Gum Disease, Sleep Apnea, Teeth Whitening, Family Dentistry, Dentures, Invisalign
Richard S. Bernstein DDS is the only cosmetic dentist in Farmington Hills and Michigan to be accredited with the American Society for Dental Aesthetics. You benefit from the latest advancements, safely administered to meet your needs and goals, including: effective teeth whitening, comfortable braces alternatives like Invisalign, lifelike porcelain veneers, and superior restorative dental crowns and bridges. Dr. Bernstein also has the capabilities to offer all aspects of the dental implants process in-house, for utmost convenience and a pleasant experience. Many of these procedures may be combined for the ultimate transformation: a smile makeover. While Dr. Bernstein takes great pride in large cosmetic dentistry cases, he also offers comprehensive family dentistry services customized to patients of all ages across the oral health spectrum. Treatments transcend the teeth and gums; Dr. Bernstein's alternative to CPAP therapy effectively manages sleep apnea for quality rest and overall wellness. Quality care meets advanced dentistry.
Reviews Hall of Fame
Fans' Choice Awards – Reviews for Richard S. Bernstein D.D.S.!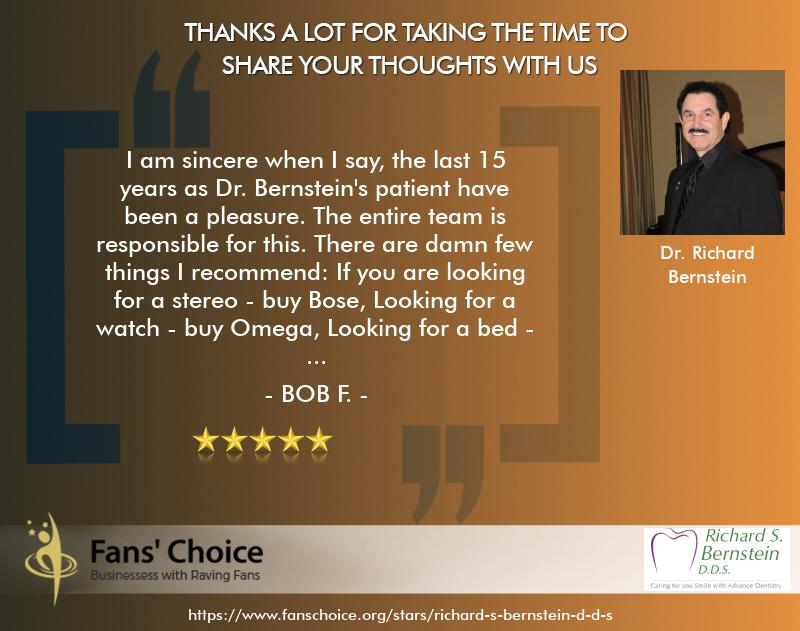 Bob F.'s review on Richard S. Bernstein D.D.S.
5

I am sincere when I say, the last 15 years as Dr. Bernstein's patient have been a pleasure. The entire team is responsible for this. There are damn few things I recommend: If you are looking for a stereo – buy Bose, Looking for a watch – buy Omega, Looking for a bed – buy Sleep Comfort, Looking for a Dentist – go to you guys! This was a "real" health matter & I am fortunate that you brought it to my attention.
---
Fans' Choice Awards – Reviews for Richard S. Bernstein D.D.S.!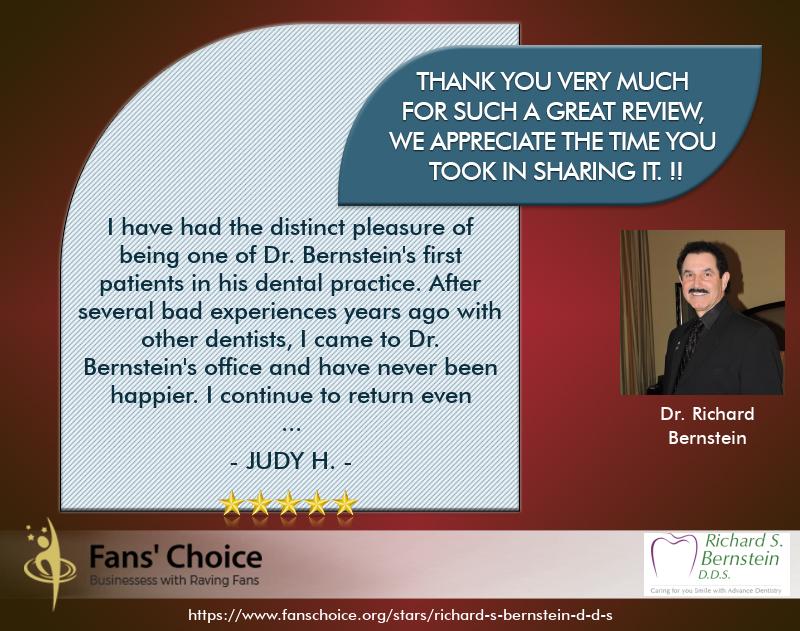 Judy H.'s review on Richard S. Bernstein D.D.S.
5

I have had the distinct pleasure of being one of Dr. Bernstein's first patients in his dental practice. After several bad experiences years ago with other dentists, I came to Dr. Bernstein's office and have never been happier. I continue to return even though I have moved a distance away due to the caring and compassion that Dr. Bernstein and his staff exemplify. The professionalism displayed by Dr. Bernstein as well as his entire office staff is exceptional!! They always keep the patient's comfort first and foremost in any procedure they perform, whether it is dental cleanings, fillings, root canals and even cosmetic surgery. Thanks to Dr. Bernstein and his staff, I have a beautiful smile each and every day.
---
Fans' Choice Awards – Reviews for Richard S. Bernstein D.D.S.!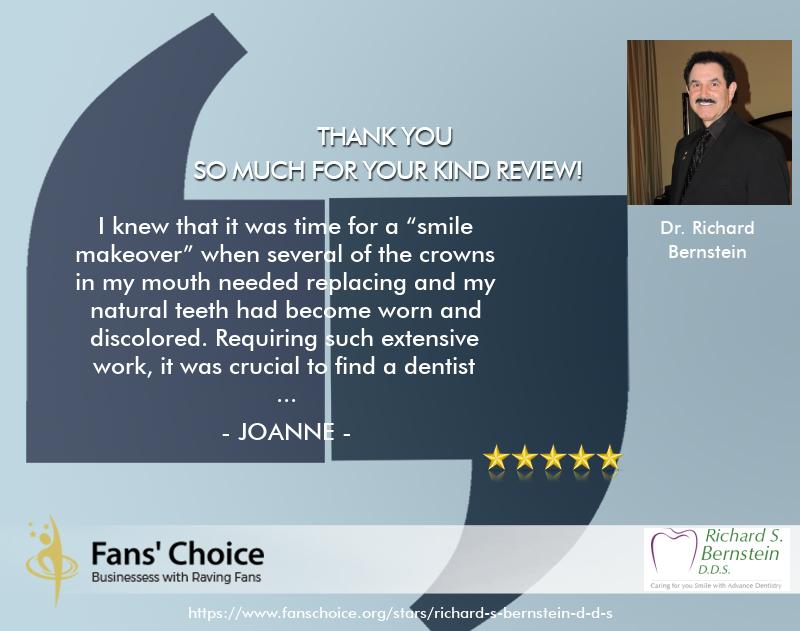 Joanne's review on Richard S. Bernstein D.D.S.
5

I knew that it was time for a "smile makeover" when several of the crowns in my mouth needed replacing and my natural teeth had become worn and discolored. Requiring such extensive work, it was crucial to find a dentist with the necessary credentials and experience in cosmetic dentistry. After much reading and research, viewing before and after photos on many websites, and speaking with several offices, I was certain that I wanted Dr. Bernstein to do the work. During my initial consultation, Dr. Bernstein and his assistant attentively listened to my desires, addressed my fears and concerns, and offered helpful suggestions. I was, and continue to be highly impressed with every aspect of his dental practice. Since our first meeting, I have found Dr. Bernstein to be an extremely skilled, particular, and most gentle dentist with a warm and fun loving personality. He does everything possible to ensure a happy and successful outcome! He also works with an exceptional staff and dental lab, who are equally competent and deeply caring. Their warmth creates a family atmosphere, which instantly puts a person at ease. My experience throughout this entire procedure has been a tremendous blessing and the final result is the beautiful, radiant, and natural looking smile that I longed for! From the bottom of my heart, thank you and God bless you Dr. Bernstein and the entire staff!!!
---
Fans' Choice Awards – Reviews for Richard S. Bernstein D.D.S.!
Jenny N.'s review on Richard S. Bernstein D.D.S.
5

Dr. Bernstein is the best! My teeth look amazing! That was the first thing I said when I looked in the mirror after Dr. Bernstein finished a veneer and cap on my front two teeth. I am so happy with the way my smile looks and I owe it all to my dentist. Dr.Bernstein has an artistic touch and a superb craftsmanship that is obvious in his work. He has a fun personality and is highly knowledgeable about modern dentistry. I am also impressed with his office. His assistants are friendly and make me feel very comfortable. I rarely have to wait more than five minutes for my appointment and I have been going to his office for 8 years! I really think that Dr. Bernstein and his assistants go the extra mile to help you keep your teeth healthy and looking great and would recommend him to anyone. Thank you so much!!!
---
A true fan will go the extra mile and record a Fan Review. Go ahead get started. It's super easy. For a great recording follow the below checklist

– Check your webcam and microphone to make sure it works
– Find a quiet, well-lit room, with as little disturbances as possible.
– Relax and don't rush your words.