Transcendentist
(

3

)
Average rating of 4.67 out of 5 stars
Dr. Ruhi Sangha & Dr. Praj Kamat
3030 Ashby Ave, Suite 101
Berkeley

,

California

,

94705

,

USA
(510) 800-7660
Contact This Business
Recommend To A Friend
Recommend To A Friend
Fill in the below form and you can recommend 'Transcendentist' to a friend or family member via a text message.
Share with Friends
Show Your Support, Share!
Show your support with a quick share of 'Transcendentist'.

Share the below banner to your favorite social media profile and encourage your friends to become a Fan.
Services Offered
Cosmetic Dentistry Family Dentistry Restorative Dentistry Orthodontics Dental Technology Oral Surgery Periodontal Services Sleep Apnea Dental Packages
Our name says it all. It is time to transcend the limitations set by our current common perceptions about what a visit to the dentist means. Dentistry need not bring pain and stress, nor involve materials harmful to your body and the environment. Here at Transcendentist in Berkeley, CA, our practice revolves around maximizing your overall wellness. We also strive to promote and preserve planetary wellness, by practicing green, certified eco-friendly dentistry. Why choose Transcendentist? "We treat human beings, not just their teeth." It is more than a motto; it is a core belief that is ingrained in everything we do. The instant you walk through our door, you will know that you embarked upon a unique dental experience.
Reviews Hall of Fame
Fans' Choice Awards – Reviews for Transcendentist!
Brad W's review on Transcendentist
5

During the past 3 years I've enjoyed getting to know Dr. Ruhi, John and others during my visits. I've had cleanings, two extractions, and several mercury fillings removed and replaced with non-toxic fillings. The atmosphere is low-key and comfortable. I happen to not have dental insurance and even so, I found their prices totally affordable. I don't usually write reviews but I felt like writing this. They deserve it. Thank you.
---
Fans' Choice Awards – Reviews for Transcendentist!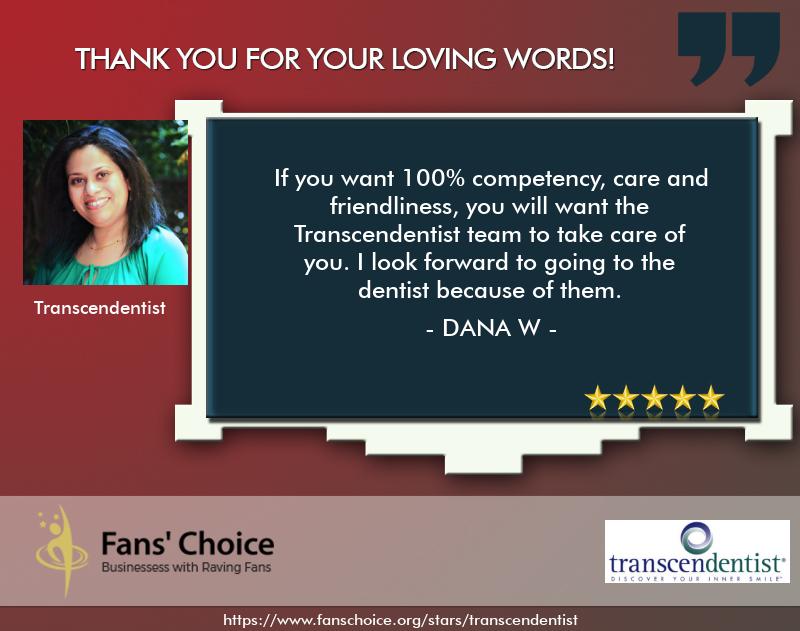 Dana W's review on Transcendentist
5

If you want 100% competency, care and friendliness, you will want the Transcendentist team to take care of you. I look forward to going to the dentist because of them.
---
Fans' Choice Awards – Reviews for Transcendentist!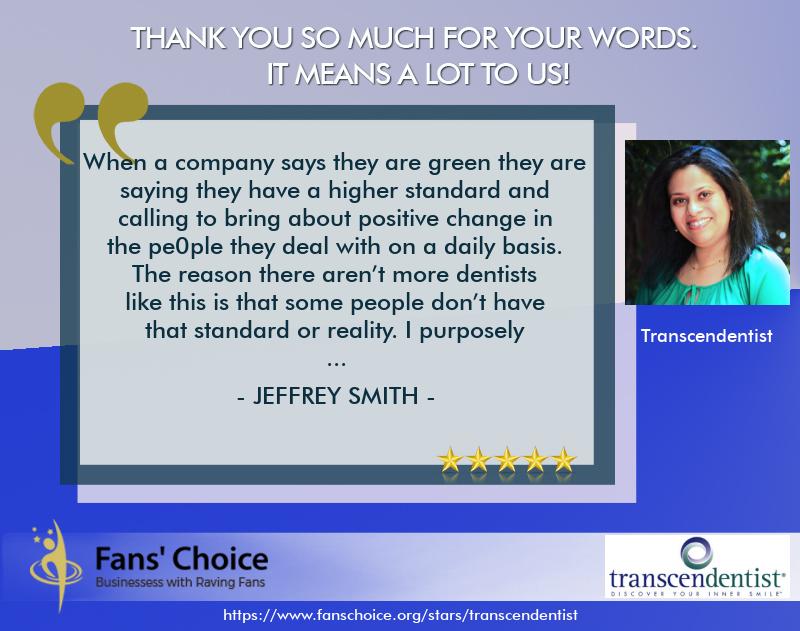 Jeffrey Smith's review on Transcendentist
5

When a company says they are green they are saying they have a higher standard and calling to bring about positive change in the pe0ple they deal with on a daily basis. The reason there aren't more dentists like this is that some people don't have that standard or reality. I purposely search for green companies to support in all facets of my life. The people who work at Transcendentist are people who have pushed the envelope to a new standard. Let's first talk about the people who run it. They get it, they understand it, and they work hard to maintain a standard that most people don't even get. The personalities of this company are, without any doubt, consistently striving to make things better and make the experience better with green health care. The ladies in the office are always smiling, always polite, and even tempered. There are two people who stand out, the assistant to my dentist, John and my dentist, Dr. Kamat. John is Mr. Do-it-All, this is from my observation, this is what I see when I am at the dentist office. John is always polite, he is efficient, he works like a sculptor, he is always on top of his job. John is an amazing employee, he is the heart of this team, if he wasn't part of this team it wouldn't have the same quality or care. I commend John and his professionalism and his serious people skills. I hope they realize who they have, he is worth his weight in gold, and that is because he is part of the big picture. My dentist, Dr. Kamat is special. She tells you what she is going to do, she is not happy or finished until she gets the results she wants. I look back over 40 years of dealing with dentists I was really upset that I didn't have this quality of dentist until now. Everything that went wrong was done by another dentist who didn't have the same standards. I can't think of too many places I look forward to going to and Transcendentist is one of them. This is a serious team that other dentists need to mimic, because of their standards and professionalism. This is a good team. I wish I met them when I had all my teeth, they even know what kind of music I like, when I come in and sit in that chair, Lee Morgan is playing. I found a home. You owe it to yourself. "Eating and living green is the only thing you can do in this life that benefits everyone." – Jeffrey Smith, Founder of From the Garden to the Table, Organic, Green, and Sustainable since 1996.
---